We recommend making bone broths regularly, for the minerals and collagen extracted from the bone and joint tissue. The broths can be drank as a beverage, used in cooking (eg in making rice), and used as the base for soups, curries, and stews.
We make broth most Saturdays, and use it throughout the week. For an example of how to make broth, see
Bone Broth Revisited; and Pumpkin Soup
, Oct 3, 2011. The nature of the broth depends on the type of bones you get. Marrow bones create a fattier broth; bones with joint tissue attached create a collagen-rich gelatin; bare bones create a mineral-rich watery broth. If you start with marrow and joint bones, then the first broth will have all the fat, the first and second will have a lot of collagen, and later batches will become progressively more watery.
Since broth itself has a mild taste, it can be the foundation for a great diversity of soups. Once you have broth, most soups can be made very quickly – often in 10 minutes.
Tom Kha Gai
, or chicken galangal soup, is a classic dish of Thai cuisine. It's always made with coconut milk and usually lemongrass (which has a mild citrus flavor) and some kind of spicy flavor.
Of course, there's no need to use chicken, and we generally prefer seafood, ruminant meats, eggs, and even duck to chicken. In today's recipe, we used shrimp and scallops as our meats.
Ingredients
We used coconut milk, bone broth (not shown), shrimp, scallops, cilantro (coriander leaves),
lemongrass
, lime juice, mushrooms, and in the small bowl on the right, a homemade chili paste,
galangal root
, and sliced Serrano or Jalapeno chili peppers.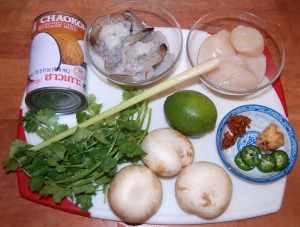 Preparation
Place equal parts coconut milk and bone broth in a pot; add lemongrass, sliced galangal, and lime juice: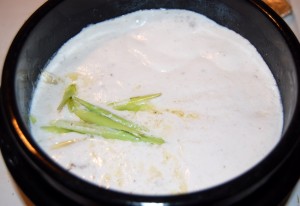 You won't eat the lemongrass, so it's best to slice it in long diagonal strips that are easy to find and remove from the finished soup. Don't cut it too small.
Bring the soup to a simmer for 5 minutes and add the remaining ingredients. Mushrooms, chili paste, and peppers: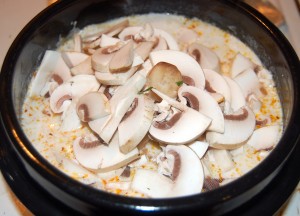 Simmer another 5 minutes, and add shrimp and thin-sliced scallops: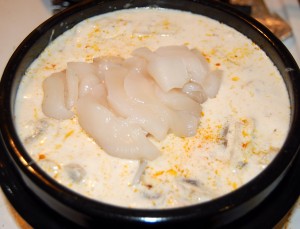 The shrimp and scallops only need 2-3 minutes, so it's almost done. Add cilantro: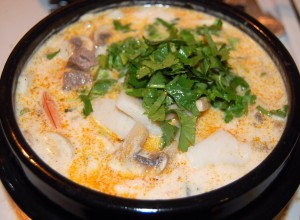 It only takes a few minutes until everything is cooked, and it's ready to serve: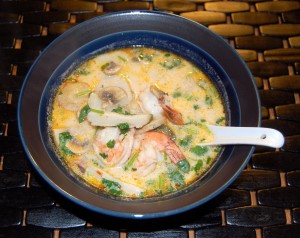 Conclusion
Many variations are possible to alter the taste. Chili powder can be substituted for the paste, and ginger root for galangal. The lime juice can be used for the citrus flavor in place of lemongrass. At the end, add some Thai fish sauce for a bit of saltiness, or more lime juice for sourness.
Tom Kha Gai has always been one of our favorite soups, and it's very easy to make. It's even better with scallops and shrimp!
http://perfecthealthdiet.com/?p=5636
About Dr Kevin Lau
Dr Kevin Lau DC
is the founder of
Health In Your Hands
, a series of tools for Scoliosis prevention and treatment. The set includes his book
Your Plan for Natural Scoliosis Prevention and Treatment
, a companion
Scoliosis Exercises for Prevention and Correction DVD
and the innovative new iPhone application
ScolioTrack
. Dr Kevin Lau is a graduate in Doctor of Chiropractic from RMIT University in Melbourne Australia and Masters in Holistic Nutrition. He is a member of International Society On Scoliosis Orthopaedic and Rehabilitation Treatment (SOSORT), the leading international society on conservative treatment of spinal deformities. In 2006 I was awarded the "Best Health-care Provider Awards" by the largest Newspaper publication in Singapore on October 18 2006 as well as being interviewed on Primetime Channel News Asia as well as other TV and Radio. For more information on Dr Kevin Lau, watch his interviews or get a free sneak peek of his book, go to:
http://www.hiyh.info
.